It's hot. Freakin' hot. I ain't complaining, though… I'm moving into this weather, so I better get used to it, yah? I love it. It's wonderful. I'm not an Eskimo (yes, I've been asked this before)! Although I absolutely love the warm months, there are a few things I (and every other woman) worry about: 1. My rolls, cracks, and crevices are the size of the San Andreas fault, and with that comes sweating. My biggest fear is sitting for long periods of time, then standing up and having a giant sweat mark down my butt. #fatgirlproblems Yeah, you heard right. 2. Chub-rub. You know when your thighs rub together? Yup, that's what I call it. You know that chaffing that happens? Yeah, it sucks. My solution? Vaseline! I'm not usually one to rub petroleum onto my body, but, when you come up with some natural/organic magic balm made from baby tears, you let this girl know. In the meantime, I'm going to rub that sticky Saudi-Arabian goodness in. So with all of this TMI going on, the last thing I should be worrying about is my makeup beading up and dripping/smearing off. I love me my MAC, but it has no place on me in 500,000% humidity. It's a shame because I enjoy looking like a drag queen like the next chick, but it just doesn't work out for me as I end up looking like Heath Ledger's Joker after an hour. It's taken me a long time, but I've finally found my go-to summer makeup regimen. 
Before I show you my goods, here's my bare-nekkid skin before anything was applied. Thankfully for both of us, my rosacea wasn't all that bad the day I took these.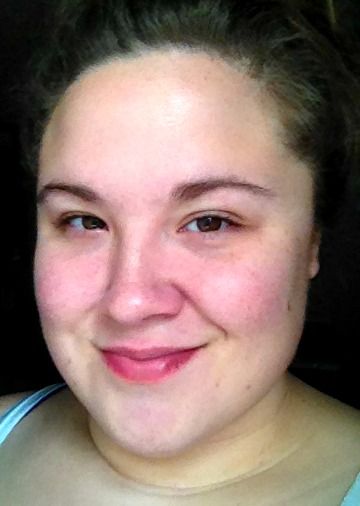 And Now that you've seen what I look like in the morning, this is what I look like after my summer makeup regimen: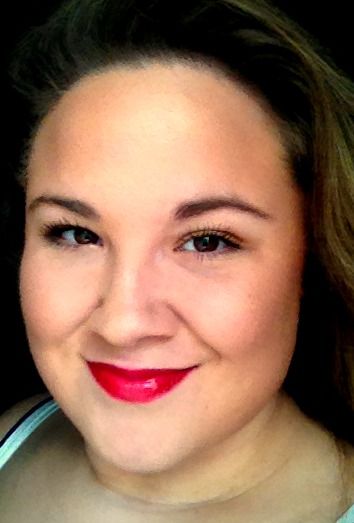 None of this is edited. I'm all about brightening my face and featuring my best assets: my eyes and lips. 
Here's what I use: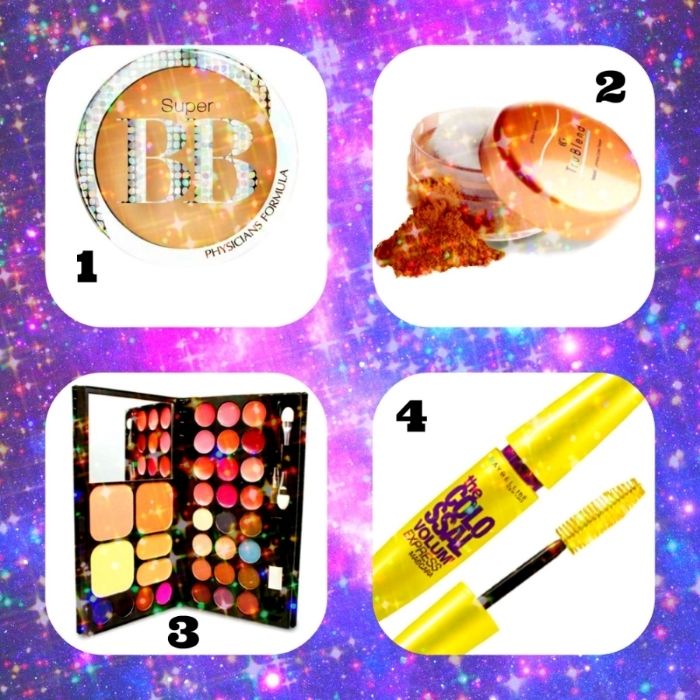 1. Physicians Formula Super BB All-In-One Beauty Balm Powder (at most major retailers and here) $13.95; This is my new favorite product I use as a foundation. It's THE best BB anything I've ever used. The coverage is flawless and it doesn't burn my skin. 
2. Covergirl TruBlend mineral bronzer (at most major retailers; see more here)
3. Skinn Cosmetic Palette of Perfection (purchase here) This little baby has everything you need (minus foundation). I have parts of this on my eyes and lips. 
4. Maybelline Volum' Express The Colossal Mascara (at most major retailers; see more here) I have a hard time wearing fake lashes because my eyes are the size of peanuts. This is the next best option. I'm always getting compliments on my lashes when I wear this. 
So there you have it. And don't forget that in addition to looking as beeeautiful as me, remember your confidence. It will make you stand out. 
Talk to me, peeps! What's going on with you? Do you suffer from chub rub, too? Comment belowwwwww.